Meet Joey
Male GSD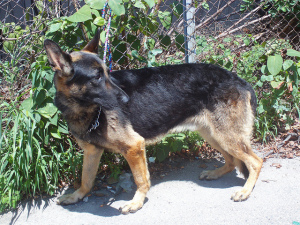 Joey


Joey is a very handsome but very sad adult German Shepherd. Poor Joe was found by the police wandering the street as a stray. Joe is extremely emaciated and desperately needs some TLC. He has pretty poor body condition but his teeth are surprisingly in good shape. Joe definitely seems "off" in his back end- he has little to no muscle mass in his hips and hind legs, and seems unsteady on them- this could be signs of hip dysplasia, or just due to neglect.

Joe walks like a dream on the leash- right beside you, like he's happy to have a leader. Joe initially was very scared and shut down in his kennel and would avoid being leashed by huddling behind his kuranda bed. In the past day, he has gotten less shut down but is stressed. He can show some barrier frustration now, so we'd like to get him out of here ASAP. Once out, Joe is friendly and seems easy to handle. He likes to be by your side, though isn't terribly used to a ton of affection.

This dog was just taken into our rescue and will not be available for adoption for a minimum of one month




Joey will be up to date with routine shots.
Joey is being tested for house training.

Joey will be available altered.
---

Back to Dog List
Icon Key:
Special Needs
Prefers home

without cats

Prefers home

without other

animals

Prefers home

without small

children